So, it has been a little while since I've done a post that wasn't mostly images of recent work featuring my awesome couples. I just wanted to take a little time and give you all on update on how I, Miss Marianne Wilson Photography, am doing and what's new and exciting in the wonderful world of wedding photography. 2010 was an incredible  year of growth for me personally and as a photographer. I was extremely blessed in so many ways thanks to my wonderful brides spreading the word about my work.


First off, I was stoked to wake up to a few rad e-mails this morning. The first one letting me know I received the 2011 WeddingWire.com Bride's Choice Award for 2011. Woo! (Yes, I made a 'woo!' sound when I read the e-mail). The Bride's Choice Award is given only to the top 5% of wedding professionals and is based on bride feedback. So thank you so much to all my amazing 2010 brides, you were all truly amazing and I hope you cherish your wedding photos for years and years to come. You can view a copy of the press release Here
The 2nd e-mail I received was from one of my beautiful 2011 brides, Jessica, letting me know her engagement session feature over at The Wedding Yentas was up. Too fun! so go check out the story on how they met and a few of their favorite engagement images. I will be blogging about their engagement session in the next few days to come too.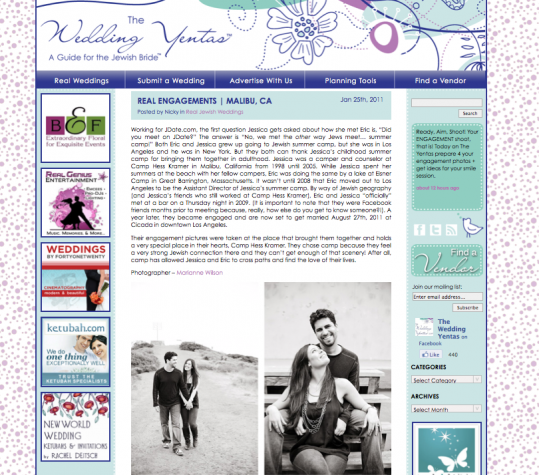 On top of that feature I was so lucky to have had many of my 2010 weddings featured on some of the most awesome wedding blogs around such as: Style Me Pretty, Style Unveiled, Rock n Roll Bride, Wedding Chicks, and Elizabeth Anne Designs.  So thank you brides for also having super fun and creative weddings that not only inspire me but also inspire other brides. You rock!
Also I was so stoked to be nominated for this years CityVoter Los Angeles HotList award for Best Wedding Photographer! The voting is actually going on right now and ends in March. At the moment I am holding steady at #1 thank to you all! If you would like to go show some MW Photography support head on over and place your vote: Here
Lastly, I just want to say 'Thank you!' (again) for all the amazing support and love I have gotten from my brides and the Wedding Photographer community. Last year was incredible and this year is on it's way to following that trend. I am almost at 100% capacity for 2011 weddings and just opened up 2012 dates so be sure to get in contact with me if you would like some more information and to be sure your date is available.
So much love!!
Marianne