As photographers we, of course, want our couples to look their best in their photos. The biggest question we get regarding engagement sessions is "What should we wear for our engagement session?" we have created this little guide to help you on your path to the perfect outfit(s)!
Disclaimer: As always, rules are meant to be broken and if you are on the fence about an outfit please feel free to ask us beforehand or bring it along to the session for some advice!
So, on to the big question: "What should I / we wear for our photography session?"
Things to Keep in Mind
– Your body type. We all hate those glamour magazines* that tell us all of the ways that we are making ourselves look horrible in the clothes we love. I personally have a love hate relationship with a particular little black dress of mine. But, for certain occasions, it is worth doing a little research. For women and men both, there is no shortage of information about general body shapes and clothes that will be the most flattering for those body shapes. Put in the effort,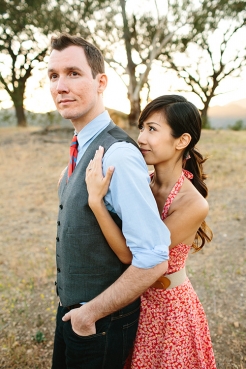 and dress accordingly. (Example: almost no one looks good in a tube top and super short shorts, trust me)
– Coordinate colors. A great example is shown here with Josie's beautiful red dress and Dan's sweet tie and vest to match. They look great together without looking too "matchy". One thing to remember is they don't have to be the exact same color. The same color family would work well too (example: bold purple and light purple).
– Coordinate styles. Guys make sure you match the overall "feel" of your girl's outfit. If she's wearing a dress, make yourself look a little nicer. If she's rockin' some jeans and fashion boots then funk yourself up a little with a snazzy tie and nice leather shoes.
– Wear solids or simple patterns. Don't over do it with the patterns. Solid dark colors are the most flattering. (for a great example of how heavily patterned clothes can also look super rad check out the photo from Matt + Jana's Engagement session at the bottom of this post).
– Consider your location(s). Think about where you will be shooting with us. Are you going for a soft natural/rustic feel? Then sticking to soft neutral colors may be a great option. Are you going to be shooting in a city or urban area? Then brighter colors or a more "dressed up" approach may work with the setting better. It doesn't hurt to look at shoots from similar locations and see what other people wore. It's a great way to see what you like.
– A cute cocktail/summer dress is always a good way to go.
– Stick to more fitted clothing. Anything hanging off your body (baggy) will make you look bigger than you are and look messy.
– The layered look is always a winner for downtown settings. For example:
Guys: Nice dark jeans, hip shoes, collared shirt and a loose tie. A jacket to finish it off.
Girls: Nice jeans, paired with a dressy top, splashes of color or patterns, funky jewelry and high heels. (or cute dress).
– Jazz up your outfit with a cute pair of heels or a funky necklace (or cute purse!).
(note: if you're going to be wearing high heels, also bring some more comfortable flip-flops or slip-ons with you for walking). Or now is a good time to rock some uggs from spot to spot.
– Consider your undergarments. Now this may go without saying but you need to consider your "intimates" when putting together you outfits(s). Ladies, make sure you wear a properly fitting bra and an appropriate style for your outfits so your bra strap isn't showing and it isn't pulling at your skin. Make sure you take a look at yourself with the whole look put together so there aren't any sneaking straps or lines that bother you. Make sure your outfit is finished to perfection by starting with your base. Although we try our best to look out for straps peeking out they don't always get caught (especially with nude straps) and re-editing those buggers out is not in our standard editing practice.
– Talk with your photographer about the locations you will be shooting at so they can give specific recommendations.
– Variety is the spice of life! It is always best to bring a few different outfits so that you can change for your specific location. Our couples typically bring 2 outfits depending on the locations and how much time we have. They almost always end up doing at least 1 wardrobe change.
– Most importantly: Be comfortable and have fun with it! You will have a much better time which will make for better photos.
Things Not to Wear
– Bright white matching shirts and Khakis
– Tops with big logos or a lot of writing on them – keep it clean and classy.
– Shirts with short hemlines and mid-drifts. Dress for your shape.
– Super Short skirts.
– Exact matching outfits. Look coordinated, not matching. White shirts and jeans don't have much personality and your engagement session is your time to let your personality shine.
More Fun Ideas
Another fun way to make your session unique and fun is to bring props. For example, some fun props are:
– Sunglasses
– A "Thank You" or "Save the Date" sign for personalized thank you and save the date cards (or a cute banner..hello etsy!). Remember: it's always great to get your engagement photos out there for everyone to see!
– Instruments you play
– Skateboards
– Balloons (or one big balloon!...Please note: Balloons are not allowed in national and state parks)
– Hats
– Your favorite cool couch or chair (Yeah, We will tote around some furniture for your awesome session…you might have seen that little session we did with a piano!)
– Anything else that makes your relationship unique or that is special to you.
Makeup and Hair:

Are you having your makeup done for your wedding?  Then why wouldn't you want to get it done for your engagement session? It is always great to have a professional when you can (that's why you've hired us!). So in order to add that extra "oomf!" to your session get your hair and makeup did ladies! I am sure you are absolutely wonderful at doing it yourself on a day-to-day basis. But a professional will know what photographs best and how to make you look perfect-o for your rockin engagement session that you will be looking at for years to come. If you are worried about cost you can always arrange to have your makeup trial done on the same day of your engagement session, two birds one stone! If you are set on doing your own makeup and hair stick to some basics rules for photo sessions:
1. Go slightly brighter/heavier on your cheeks, eyes, and lips than you normally would. Make-up tends to look much more toned down in photos so in order for it to look like you are wearing any at all you need to go slightly heavier and colors that have a tiny bit more pop.
2. Stick to matte make-ups unless you really know what you are doing. It is super easy for shiny/glittery/shimmery makeup to reflect light and make you look oily (or spotty) in a photo. So stick to a nice matte finish powders and eyeshadows for flawless looking skin
3. Always wear a powder over your makeup to set it and also to continue to keep it matte
4. Fake eyelashes – are your best friend. I know they can feel awkward or 'heavy' at first but they make an awesome impression in photos and are a great way to add some flare without looking too unnatural. (for an even more natural look try individual lashes)
(for even more tips check-out: http://hairandmakeupbysteph.blogspot.com/2012/03/tips-for-doing-makeup-for-photographs.html but remember, nothing beats having a professional who does makeup for photography)
When to schedule our engagement session?
A few questions to ask yourself when trying to decide what time of year to schedule your engagement sessions are:
1. Do I want to use the photos for my Save the Dates? If the answer is yes you will want to schedule your engagement session early enough that you can shoot, get your photos back, design a save the date, and leave time to get the actual cards printed.
2. What will the weather be like? Ideally you will want to shoot while it isn't too hot out, you don't want to be walking around looking all snazzy but feeling hot and gross. Spring and Fall are our favorite times to shoot (although we don't mind walking around being sweaty if you'd like a summer shoot!)
3. What do you want it to look like outside? if you like that golden brushy look mixed with the reds and yellows of fall then October-November is probably your time (depending on the weather and if the trees are changing yet). If you love the yellow blooms of spring then April-May is probably the best for you. Of course this all depends on rainfall and weather, but is a good starting point.
Then you will want to decide when to schedule (time of day and day of the week). We personally schedule engagement sessions on Mondays-Thursdays the 1-2 hours before sunset. Why?
1. Locations we shoot are substantially less busy on weekdays. This makes it easier to shoot in many locations without people in the background. But, more importantly, it makes it more comfortable for you to shoot since there won't be as many people walking around looking at you.
2. As you might have guessed, we are wedding photographers. This  means our weekends are spent shooting awesome weddings like yours! Due to that fact we just don't have the availability to shoot engagements on the weekend.
3. That gorgeous light you see in our engagement sessions photos has a lot to do with us knowing how to shoot but it is also due to the fact that we pick the absolute best time of day to shoot. The 1-2 hours before sunset when the sun is a little lower in the sky (right up until sunset or a few minutes after). This gives us a much more flattering light to work with which makes you look all that much better. The sun earlier in the day is much harsher and produces unflattering shadows on your face. In order to provide the best possible photos we strongly encourage shooting during this time.
"Let Me Explain. No, There Is Too Much. Let Me Sum-Up…"
Finally, the most important thing to remember about preparing for an engagement session is that we are trying to photograph you, so be yourself! Dress nice, but don't get so "dressed up" that you are uncomfortable. Interact with each other the way you normally would. Goof off, make faces, cuddle, laugh, play. In short, have fun and bring your 'A' game!
I will be honest, we have yet to be disappointed with our couples on their fashion sense, you all rock and there is a reason we work so well together! Here are just a few examples of some great outfits that couples have put together, ranging from casual to more dressy and a mix of both! You all get an A+ for style!
* Note = Make no mistake, we love fashion and glamour magazines in general, just not when they're telling me I can't wear my yoga pants to the grocery store with my hair in a bun.